>

Engage

>

Interest Groups

>
PestVets

Overview
Leadership
Resources
Latest News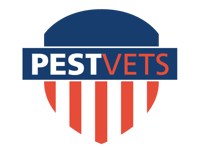 PestVets was founded in late 2014 to provide returning veterans with resources about the opportunities available to them in the pest management industry. 
PestVets Goals
Create Veteran Awareness of Opportunities in the Pest Management Industry
Provide Guidance to Assist Veterans with Transitioning to the Industry
Recognize Veterans for Their Industry Contributions
Give Back to the Community and Show Appreciation for Active Military
PestVets Initiatives
Recruitment Resources
PestVets Mentorship Program
PestVets Gives Back
PestVets Veteran of the Year Award
Sponsored by

PestVets Companies
In order to become PestVets member company, the company must make a commitment to hire, promote the hiring, and/or participate in acts of service for Veterans or active duty members of the U.S. Military and be a member in good standing of NPMA.
Companies that apply and are successful in being recognized may use the PestVets logo on their website, and will receive recognition on PestVets.org, among other benefits. Please allow for two to four weeks to process your application and receive feedback from the PestVets Council.
PestVets Companies
Chair
Trent Kucherka, BCE
The Bug Master
Austin, TX United States
Vice Chairman
Thomas Drapeau
Freedom Pest Control Company
Merrimac, MA United States
Past Chair
Jeffrey Keller
Burns Pest Elimination
Phoenix, AZ United States
Staff Liaison
Matt Hemmendinger
National Pest Management Association
Arlington, VA United States
Board Representative
Joe Campbell
ABC Home & Commercial Services of DFW
Lewisville, TX United States
IDEA Ambassador
Luke Rambo
Rambo Total Pest Control
Puyallup, WA United States
ELP
Kendra Snyder
Quest Termite & Pest Management
Hellertown, PA United States
Member
Adam Bergstrom
Blades of Green
Edgewater, MD United States
Member
Judy Black
Rollins, Inc.
Atlanta, GA United States
Member
Matthew Blanchard
Cedar Systems
Tarrytown, NY United States
Member
Charles Carney
Cook's Pest Control, Inc.
Decatur, AL United States
Member
Stanton Cope
Rose Pest Solutions
Northfield, IL United States
Member
Xavier Cugnon
Arrow Exterminators
Atlanta, GA United States
Member
Kevin Denardo
Rentokil Terminix
Wyomissing, PA United States
Member
Allan D. Dufoe
FMC Professional Solutions
Annapolis, MD United States
Member
Jerome Hatch
Pinnacle Pest Control, Inc.
Sacramento, CA United States
Member
Michael Ivey
Syngenta Crop Protection, LLC
High Point, NC United States
Member
Jessica Lane
Pestech Pest Solutions
Poughkeepsie, NY United States
Member
Mike Morris
Integrity Pest Solutions, Inc.
Chester, VA United States
Member
David Poplin
CDS Services, Inc. dba Legion Pest Management
Murrieta, CA United States
Member
Santos Portugal, III
Mississippi State University
Mississippi State, MS United States
Member
Curtis Rand
Rose Pest Solutions
Northfield, IL United States
Member
Dwight Reynolds, ACE
Rentokil Terminix
Wyomissing, PA United States
Member
Connie Rogers
Tennessee Pest Control Association
Lawrenceville, GA United States
Hiring Resources
Promoting Job Opportunities
NPMA has a number of programs to support the hiring of military personnel and veterans.
PestControlJobs.com
All NPMA members receive one free job listing per year. Take advantage of the only job board dedicated to the hiring of pest management professionals.
SkillBridge Program Partnership
Through NPMA's SkillBridge Program Partnership, you provide active military service members with pest control service technician training while they are paid their military salary and benefits. Meet your next employee through the SkillBridge Program.
Other Hiring Ideas
Give a job posting to your local VA rep in the town hall.
Give your contact info to the Career One Stop officer in your county or state.
NPMA members can receive 15% off RecruitMilitary advertisements, career fairs, and other opportunities. Email pestvets@pestworld.org for details.
More Resources
Work Opportunity Tax Credit (WOTC) Fact Sheet
Veterans Employment and Training Services (VETS)
Veterans Employment Center (VEC)
Veteran and Transition Resources
TAP Program
In 2011, Congress passed and President Obama signed into law the "Veterans Opportunity to Work and Hire Heroes Act of 2011" (VOW Act). The VOW Act requires, among other things, that separating service members must attend the Transition Assistance Program (TAP). The VOW Act also required that the Department of Labor redesign its employment workshop, the largest component of the TAP curriculum, to be more applicable to the realities of today's job market. VETS fulfills this requirement for DOL and manages the implementation of the employment workshop at hundreds of military installations worldwide for thousands of separating service members.
In 2013, the Department of Defense launched a TAP virtual curriculum through its Joint Knowledge Online (JKO) learning management system. This TAP virtual curriculum is designed to provide service members who are unable to attend the TAP in person due to military exigencies with the ability to fulfill their TAP obligations. The Departments of Defense, Veterans' Affairs, and Labor were informed that providing the TAP curriculum to veterans and spouses of service members might be helpful to them too, so the JKO system now provides the full TAP curriculum to anyone who might benefit.