>

Engage

>

Awards and Achievements

>
PWIPM Professional Empowerment Grant
PWIPM Professional Empowerment Grant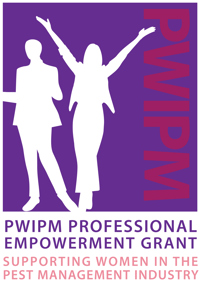 The PWIPM Council is honored to offer two Deni Naumann Women in Pest Management Empowerment Grants each year in honor of Deni Naumann who gave so much to the pest management industry. We thank Rentokil Terminix for their support of this tribute to her legacy.
Professional Women in Pest Management (PWIPM) grants can advance a career in the pest management industry or help to reduce the costs related to education. Grants are a maximum of $1,000 and include a free registration for the National Pest Management Association's PestWorld conference and and additional $1,000 towards travel expenses to the conference. The deadline is usually July 31st.
In 2023, PestWorld is in Hawaii! To help recipients plan and pay for travel, the deadline for 2023 is June 15th. Recipients will be notified by July 1st. The reimbursement limit for recipients who do not live on O'ahu will be $2,000 for 2023.
DOWNLOAD THE PWIPM GRANT POSTER
Spread the word about this opportunity by sharing this poster with your colleagues!
DEADLINE: June 15, 2023. The nomination period for 2023 is now closed.
Minimum requirements:
Female currently employed in pest management industry
Minimum of 2 years of experience in the industry
Subscribed to the PWIPM contact list (e-mail pwipm@pestworld.org to verify/be added)
To be submitted:
Resume with work experience outlined in the pest management industry
Essay (to be no more than 3 pages long (500-1500 words)
An itemized budget detailing use of the $1,000 grant to help meet career goals
Two letters of recommendation (sealed and signed by author, mailed or emailed to address below)
Essay Questions:
Explain your career path.
What are your career goals for the next 5 years?
What challenges face women in the pest management industry?
Describe how you have used your strengths to overcome one of the challenges you described in #3.
Give an example of how women have helped you in your career.
Letters of recommendation should comment on the student's goals and motivation and answer the following questions:
Does the applicant have a strong interest in the pest management industry?
What steps has the applicant taken to prepare/advance her career in the pest management industry?
Finalist Requirements:
The grant recipient will be required to submit 2 articles to PWIPM speaking to the benefits of the award:
A short (150 words) anecdote about the PestWorld experience due within 30 days of attending PestWorld
An article describing the benefits of the grant, how the funds were used, progress being made towards career objectives, and a picture due within 300 days of receiving the award money.
Submit all required documents in one envelope or one .pdf file by the deadline to:
Professional Women in Pest Management
c/o NPMA
10460 North Street
Fairfax, VA 22030
or 
2020
Adanna Lett, Rehoboth Limited, Trinidad And Tobago
Adanna Lett is the Pest Management Development Officer at Rehoboth Limited of Trinidad and Tobago; a second generation company. She holds a major in Biology and a graduate degree in Small and Medium Enterprise Management. Adanna draws inspiration for diverse matriarchal leaders and credits these women for her continual personal and professional growth. It is her mission to ensure Rehoboth Limited achieves accreditation for the complete range of NPMA's Pro series and fully adopt data driven systems and new technologies in Pest Management to elevate employee engagement and customers experience.
Lisa Weidmaier, Western Pest Services, Parsippany, NJ
I have held the position of Training and Technical Manager for Western Pest Services since joining the company and the industry in 2008. I've been part of the NJPWIPM group for the last three years. I am passionate about learning and am committed to making sure that we continue to share the story of what an important difference women can make in the pest control industry…solving problems for customers and making the world a better place.
2019
Bridget Anderson, ECOLAB, Ponchatoula, LA
"Being awarded the PWIPM grant to attend Pest World catapulted my career!  Shortly after the announcement of being awarded the grant, my name and talents were being discussed with senior leadership.  Although I know my company valued me and acknowledged my engagement, the award brought me to the forefront.  Attending Pest World allowed me to see the vast opportunities in our industry.  This event ignited a fire in me to further my career and take the path that so many talented women paved.  My eyes were opened to a future I did not see prior to attending PestWorld.
After returning from the event, I took the opportunity to apply for a promotion.  I feel confident that PWIPM and PestWorld was a huge part of my preparation for the interview and now the new position I hold. Covid-19 did effect some of the education plans I had with the grant. However, the faith, confidence, and knowledge I gained from attending the event advanced my career in pest management. Just a few short years ago, I started as a nighttime service specialist, and now I manage a 3 state team of sales managers.  Thank you to all the women in PWIPM for helping me advance my career!"
Ashley Sands, Future Services, Inc., Lawrenceville, GA
"As a PWIPM Empowerment Grant recipient, I was awarded the opportunity to attend PestWorld 2019, which took place in San Diego, CA. One of the biggest takeaways for me was truly understanding the impact the pest industry has on the world. It is truly inspiring to see the collaborative efforts of so many people to advance technology, products, etc. to provide better results for prevention, elimination, and protection from pests. In addition, I thoroughly enjoyed meeting with the vendors in the Exhibit Hall. It gave me an opportunity to network and catch up on the newest and greatest platforms out there that we can implement into our business. The educational sessions were also very insightful. I focused on attending topics related to management, including marketing, human resources, and technology. Lastly, I enjoyed the opportunity to learn more about NPMA, and I hope to attend more NPMA events in the future!" 
2018
Rachel Alexander, Advantage Pest Control, Ontario, Canada
"I'd like to personally thank the PWIPM and the NPMA for the opportunity to further my career in the field by granting me the funds to take my ACE-I exam. The experience at Pest World 2018 was insightful, educational and allowed me to connect with other industry pros, especially fellow women in the field. The support I've received from the PWIPM has been invaluable and has made me a more versatile and well rounded technician, ready for whatever the industry has waiting for me.
This grant allowed me the opportunity to fund the requirements to take my ACE-I and infinite support that encouraged me to achieve my goals. This has been a surreal experience and has helped me plant my feet as a solid and confident pest management professional." 
Teresa Bannon, Commercial Sales Supervisor for Cook's Pest Control, Horton, Alabama
"As a recipient of the Professional Women in Pest Management Empowerment Grant, I was awarded the opportunity to attend PestWorld 2018 in Orlando, FL. This event far exceeded by expectations! The location at Walt Disney Dolphin and Swan Resort was incredible. The participants in the trade area were numerous. I enjoyed speaking with vendors from the United States and abroad about current and future products available to the pest industry. Also, I was able to attend several classes from leadership enrichment to the fight against the Tawny Ant (surprisingly affecting many areas today). Most of all, I enjoyed having the opportunity to interact with other women in the pest management industry, some of whom were from across the world. After speaking with these women, I realized that all of us, regardless of where we reside, face many of the same challenges. It was great to be able to come together at PestWorld 2018 and fellowship as a group. PWIPM is doing great things and I am proud to be a part of this organization.
I would like to thank the PWIPM again for the Empowerment Grant that I used to further my leadership skills thru the online courses available with Dale Carnegie Digital Training.  The courses have helped me to understand better ways of communicating, leading and negotiating between myself and my team members so that we ALL can excel in our careers.  I feel that these valuable insights will benefit me professionally and personally  and, I say again, Thank you, Professional Women in Pest Management, for the great experience, which not only started at Pest World 2018, but will continue to empower me on into my future and my career.  You are a great organization and I am blessed to be a part of it."
2017
Helen R. Holloway, Co-Owner of Champion Pest & Termite Control, Pickerington, OH
Angie Lawrence, Area District Manager for Rentokil, Charlotte, NC and Greenville, SC
"Thank you to the Professional Women in Pest Management for affording me the opportunity to experience B'More.  I went into the trip to Baltimore without any set expectations of what the trip would be and came home with a completely new perspective on what I want my future in pest management to be. 
I have spent 20 years working in a bubble; in my own little corner of the Market.  B'More was enlightening and an eye opener.  It has given me ideas of what a career that lasts until retirement might look like, not one that might end when I get too old to help cover an open route or service 100 bait stations in a couple hours.  I have returned home and have ideas of how to involve my fellow women in empowering each other in our profession and improving myself thru education and participation in meetings, training and comradery.  I want to inspire my staff to be more than just pest prevention professionals, but be a better steward for the environment, be a better neighbor, and be a better member of their community.  I want to create enthusiasm to support each other, and build each other up to reach our goals together.  I want to be able to B'More."
2016
Kaija Saarinen
"Receiving the PWIPM Professional Empowerment Grant in 2016 was an incredibly enriching experience. I had just launched my business in May of 2016 and was eagerly looking to become a part of the PWIPM, CPMA and NPMA communities. Being a new business owner, funds were tight as PestWorld 2016 was approaching. There was no way I would be able to afford to go on my own. This grant allowed me to experience this incredible conference and meet so many amazing people in our industry. It was an unforgettable educational experience, and I am hooked! I cannot wait until B'More 2017.
The conference allowed me to finally meet the members of PWIPM in person. What an incredible group. I am so proud of the members and what they have already accomplished. It was a packed meeting with record numbers; all of whom were exceptionally excited to help grow our organization. I highly recommend anyone interested to check out PWIPM. The mentorship and support and unparalleled for women in our field!
The grant also allowed for me to further my education and add services to my business by helping to pay for my Mosquito and Biting Fly certification. The funds also made it possible to attend Pest Management Canada 2017 in Vancouver, where I was host to PWIPM's inaugural interest meeting. We had a great turn-out and hope to grow PWIPM's presence in Canada for our next Pest Management Canada 2018 in Toronto. Since the conference I have been actively recruiting in my region (and all of Canada) for PWIPM. I have taken part in our quarterly conference calls with the other regional groups and cannot express how thrilled I am to be a part of this organization and to see it flourish! I really want to try and give back to this group who awarded me this grant and truly helped my pest management career in so many ways. Thank you so much to everyone involved! And please, let your friends, staff and any women in your life know about PWIPM."
2015
Sheila Donatello
During a successful PestWorld 2015 in Nashville, PWIPM presented the Professional Empowerment Grant to Sheila Donatello of the Steritech Group in Charlotte, North Carolina.
2014
Mariluz Jimenez
The National Pest Management Association's (NPMA) affiliate organization Professional Women in Pest Management (PWIPM), is pleased to announce the 2014 recipient of the PWIPM Professional Empowerment Grant is Mariluz Jimenez of HomeTeam Pest Defense in San Antonio, Texas.
Mariluz Jimenez has worked in the pest control industry as a sales consultant for the past six years. According to Central Region Vice President Mike Johnson, "Mari possesses outstanding [skills]. Her sense of urgency, ability to create empathetic relationships with customers, and desire to excel are keys to her success. She is an asset to HomeTeam Pest Defense." Upon acknowledge of her winning the award, Jimenez stated: "Being selected as the Empowerment grant recipient is proof that if you reach for every opportunity as they present themselves, more doors will open, and we can soar farther than we think. Wayne Gretzky once said 'You miss 100% of the shots that we don't take'. I'm extremely grateful for this award and I look forward to using it to the best of my abilities."
As the recipient of the grant, Jimenez will receive funding to advance her career or education in the pest management industry, as well as a trip to PestWorld 2014 in Orlando, Florida. The grant will be awarded during the PWIPM reception at PestWorld on October 22, 2014.
2013
Suzanne Wagner
"Attending NPMA's PestWorld 2013 was an incredible experience that definitely helped me achieve my career goals. I want to thank PWIPM for granting me this scholarship and covering my attendance at the conference. This was the first time I had been able to attend, but I certainly hope it is not the last as I benefited so much from the experience! Meeting so many new faces and hearing about their learning and development endeavors gave me some fantastic ideas that I can apply to the programs at Rentokil. This to me embodies the spirit of PWIPM and the purpose of the scholarship as the opportunity aided both my education and career growth."
2012
Charity Lowder
"I can not thank PWIPM enough for allowing me the opportunity to attend PestWorld 2012. The entire PestWorld experience was so beneficial and very educational! PWIPM's dedication to women in the pest industry encouraged me to take the extra initiative to move up through the ranks and reach my full potential.
"The scholarship was put to great use, by paying for my winter 2012 semester at Central Piedmont Community College. I am currently enrolled at CPCC working toward an associates degree in business. The associates degree gives me the tools that are needed to handle anything, and interact with employees of all levels.
"Furthering my education will equip me with the knowledge to take on extra responsibilities and move up as a successful woman in the pest control industry!"
Laura Corbin
"The PWIPM scholarship gave me many opportunities I wouldn't otherwise have had. It allowed me to attend PestWorld, NPMA Academy, and several other local training classes, all of which I thoroughly enjoyed. I have been able to further my education in the pest industry, and I will be forever grateful for the experience."
2009
Sarah Thomas-Clark
"The pest management industry has been a part of my family since 1949. Within the pest management industry, we are fortunate to have many networking opportunities and the ability to foster relationships with other individuals. PWIPM consists of females who have a passion for the pest management industry. PWIPM recognized my efforts and selected me for the scholarship in 2009 affording me the opportunity to attend Pest World in Las Vegas that year.
"The scholarship provided me with funds to complete my Bachelor's Degree in Communication from SUNY New Paltz. Upon graduation I knew my passion was with pest management. I assumed the role of Marketing Specialist for my father's company and am now Vice President of my family owned business. My association with PWIPM has fostered endearing relationships with women who I admire and enjoy the same ambitions and objectives as I do.
"I encourage any female within the pest management industry to apply for the scholarship. The scholarship and Pest World experience will foster your growth professionally and inspire you to make a difference in your community and the industry."